California's Cave Systems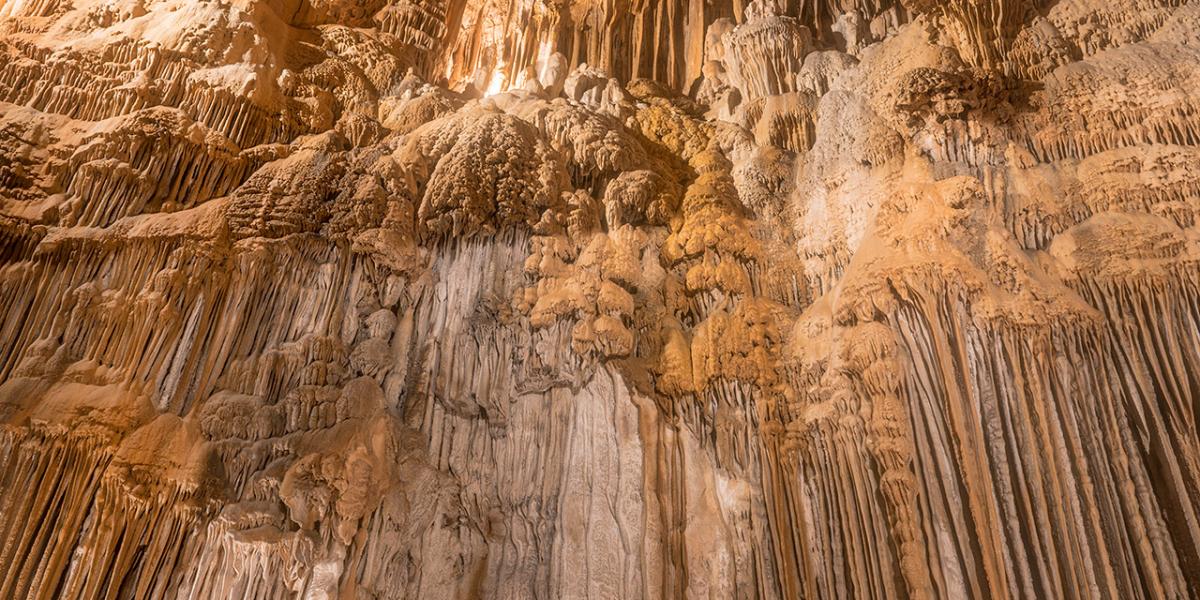 California is known for sunny beaches, snow-capped mountains, fertile valleys, and sparkling deserts – but hidden beneath these golden state landscapes is a world unlike any other.
Underneath California, there is a remarkable display of geological formations that started millions of years ago, when forces of water, fire, pressure, and time carved their way through solid rock. Today, the fruits of their labor are ours to explore and appreciate! Throughout the state, visitors can marvel at the grandeur of subterranean cathedrals formed by carbonic acid and water seeping through limestone, or at the twisting formations of lava tubes and sentinel stature of basalt columns.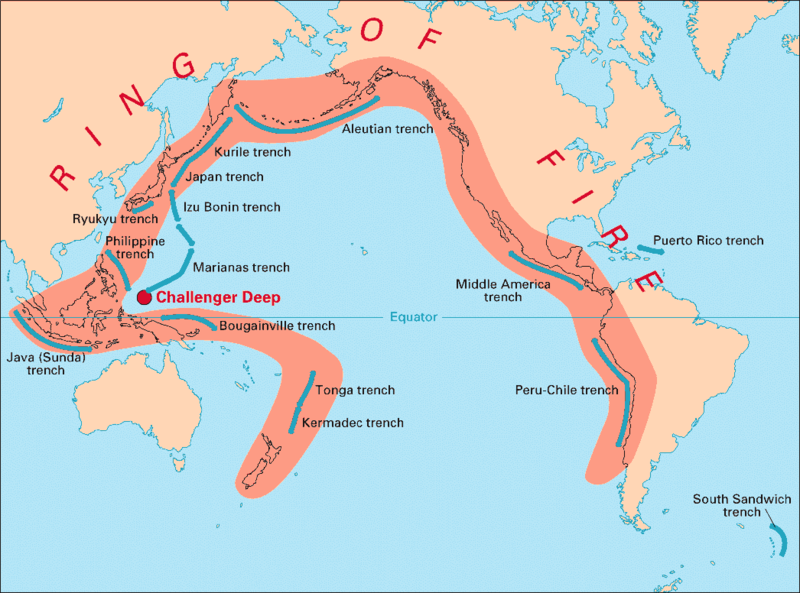 The type of cave available for exploration can vary depending on geology and location. The Pacific Coast of the United States represents the western rim of "The Ring of Fire", a horseshoe-shaped area where 90% of the planet's earthquakes occur. The Ring of Fire has approximately 452 active and dormant volcanoes! These volcanoes, along with a shifting of the earth's plates, largely determined California's geology as sediment was repeatedly deposited, compressed, and heated. The vast deposits of limestone created through this process gave way to the amazing array of cave formations found in many California and Nevada caves.
The two main types of cave systems found in California and Nevada are lava tubes and solution caves (known as caverns.) While they may look similar, they are totally different geological formations, each dating back hundreds of millions of years. Most often, both were hidden from the naked eye and have been found completely by accident sometimes at the demise of weary and wide-eyed pioneers on early explorations. Solution caves are most often considered "live", because water is present and the moisture fosters further development of the iconic stalactite (growing from the ceiling) and stalagmite (growing from the floor) formations. "Dead" caves are dry and can no longer grow those speleothems. Lava tubes are neither living nor dead, but are instead considered "primary", as they formed at the same time as the surrounding rock.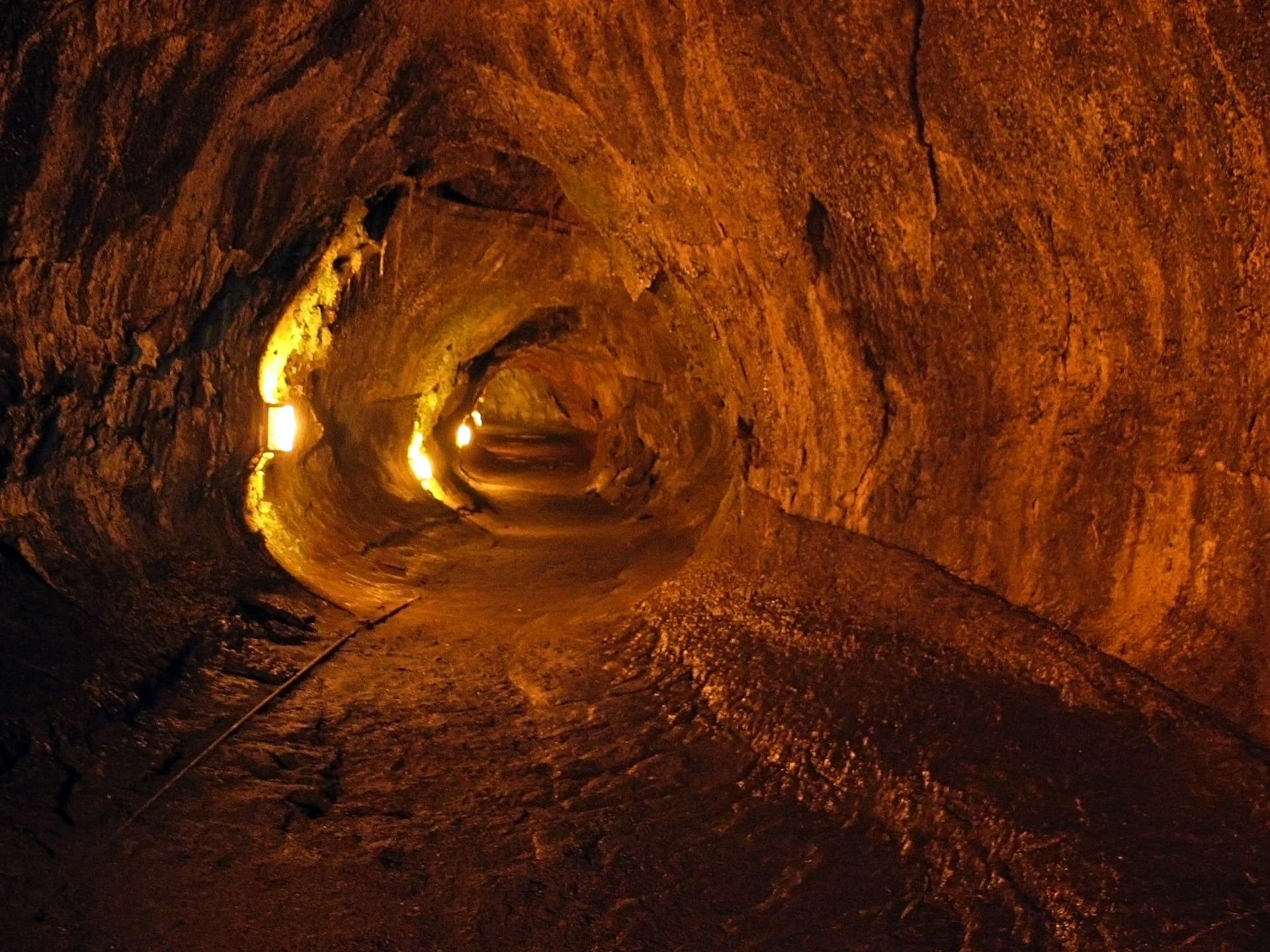 A lava tube is formed when low-viscosity molten lava continuously flows from a volcano; the outer edges harden from exposure to the cool, surrounding environment, but the hot lava continues to flow like liquid through a straw, continually building up that outer crust. When the flow eventually subsides, a hollow underground tunnel remains, ready for exploration! Lava tubes vary in length and size, with some chambers rivaling the biggest and best solution caves.
Not all caves are a result of metamorphic processes or lava. Littoral, or sea caves, are the results of wave action and time, and talus, or scree caves, occur when large boulders tumble into piles and create large, unstable spaces. Both types are present in California and are available for exploration!
California's Caves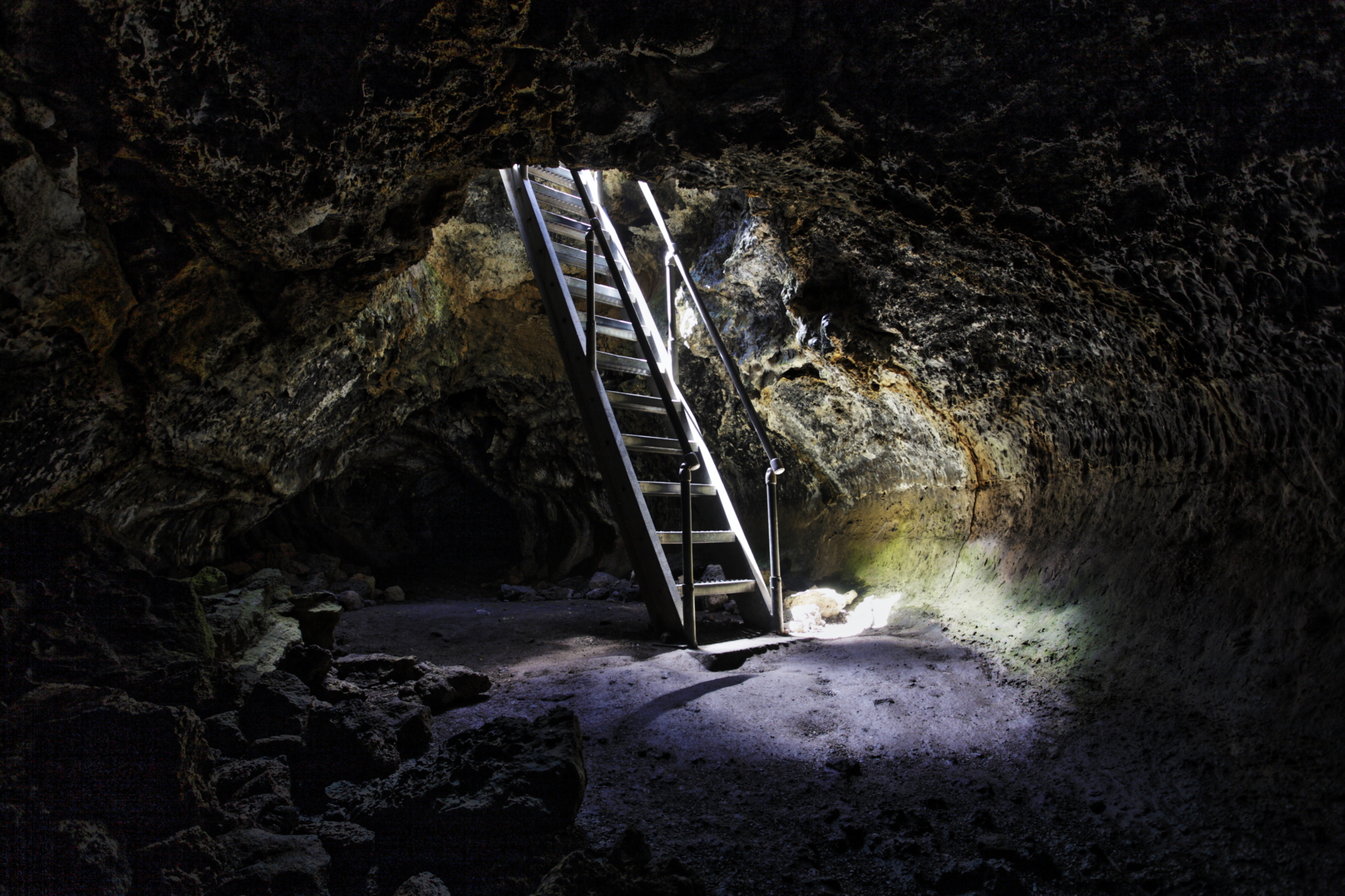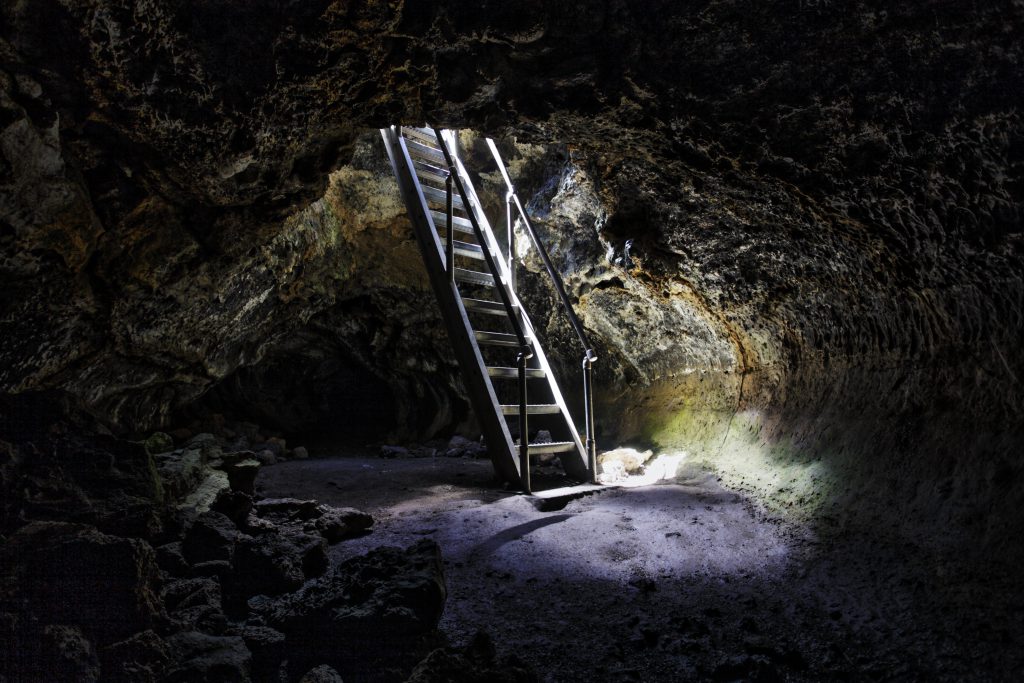 Lava Beds National Monument is located near Tule Lake and is the site of more than 800 explorable Lava Tubes. Visitors can explore the many self-guided options, or enjoy daily ranger-led tours of notable, individual tubes with remarkable history or glowing fauna. The Lava Beds Visitor Center is a great place to learn more about caving; check in for the daily adventures, or enjoy interesting topic presentations by National Parks Service staff.
(530) 667-8113
---
Just down the road near Lassen National Park is the lava tube called Subway Cave. This meandering tube has been left in its natural state and is a truly wild caving experience. Bring a headlamp while you explore the depths of Subway and keep an eye out for cool volcanic cave features.
(530) 335-7517
---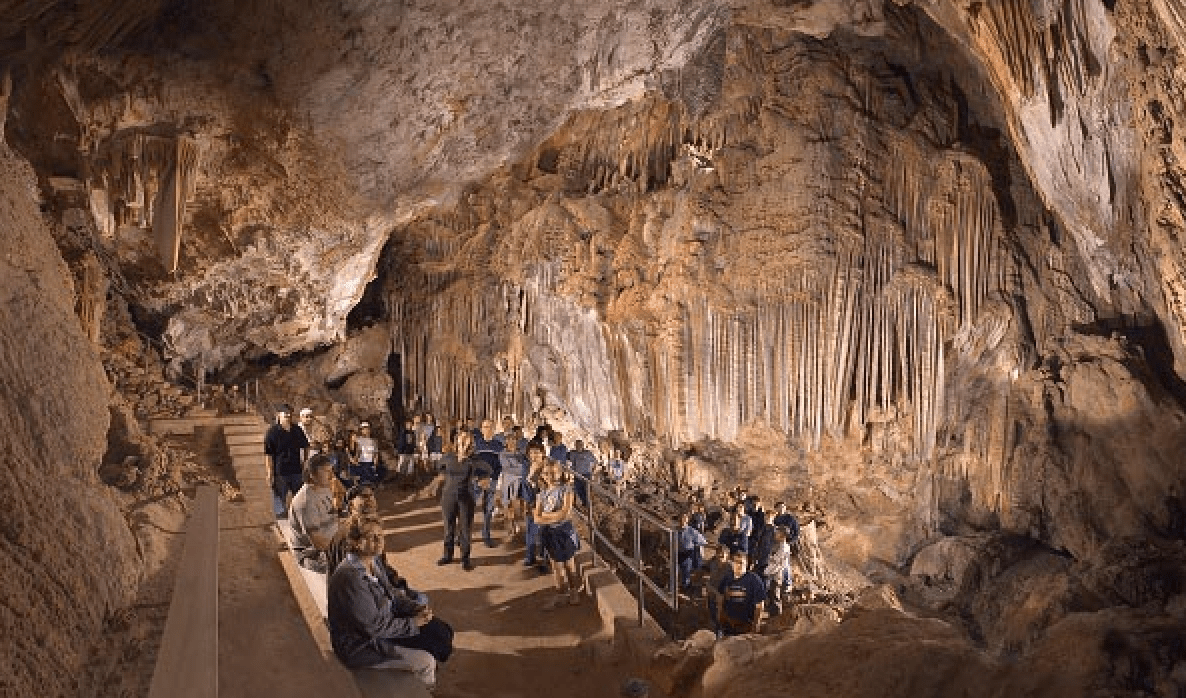 One of the most widely visited and the newest National Natural Landmark of the cave systems is the Lake Shasta Caverns. Here, you will find a geological adventure for your whole family that includes a ferry boat across the beautiful Lake Shasta, a bus ride to the visitor center, and a comprehensive tour of the caverns in all their glory! Guided tours run year-round and typically include sightings of various forms of local wildlife such as bald eagles, black bears, deer, or perhaps even a mountain lion.
(800) 795-CAVE
---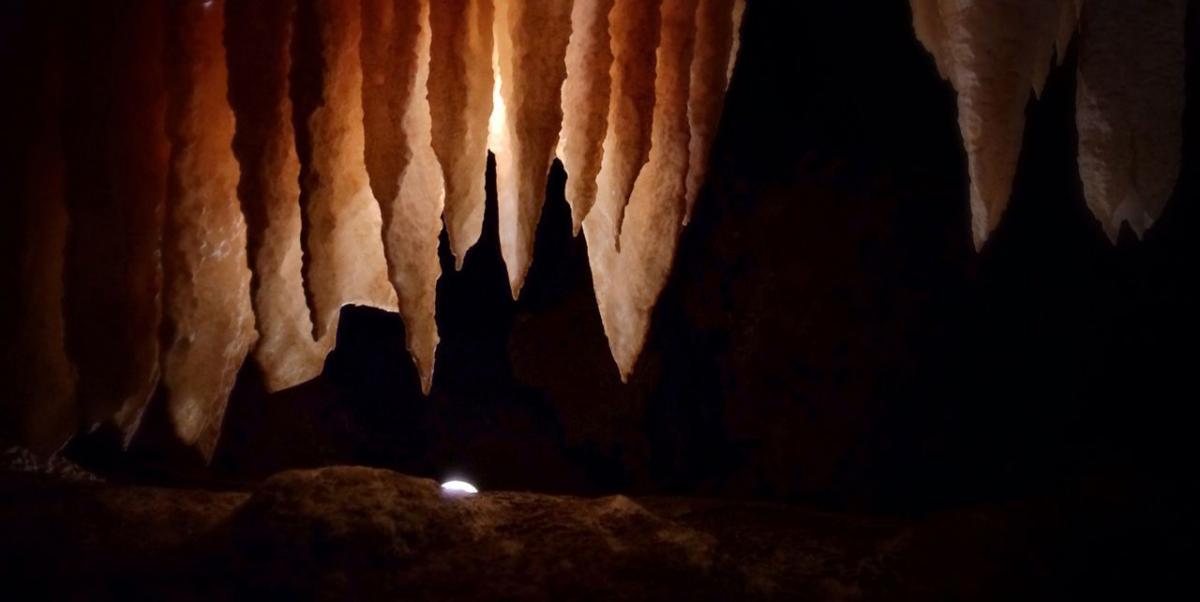 Black Chasm Caverns in the rural town of Volcano is one of the 5% of the cave systems in the world that contain helictites. Every chamber in the Black Chasm cave has an abundance of these magnificent crystals, twisting and curling from the cave walls and ceiling. In fact, Black Chasm was declared a National Natural Landmark in 1976 in recognition of the spectacular example of cave formations. When visiting. take a moment to visit the remarkable natural zen garden. Guided tours are available year-round with varying hours of operation.
(209) 296-5007
---
The solution cave known as Mercer Caverns located near Murphys, was discovered by chance in 1885, and was originally known as "New Calaveras Cave" or "New Place of Skulls", due to some interesting and macabre discoveries made during the early explorations. Mercer Caverns Visitor Center and Gift Shop are loaded with the history of the area; tours are available daily year-round, with limited hours.
(209) 728-2101 | (209) 728-2378
---
Originally called Mammoth Cave, California Caverns is a limestone cave in the Sierra Nevada foothills of Calaveras County. This series of interconnected caverns is one of the earliest, officially recorded caves in the Mother Lode region. California Caverns claims the distinction of having the most extensive system of caverns and passageways of beautiful crystalline formations and recently discovered pristine areas.
(209) 754-1850
---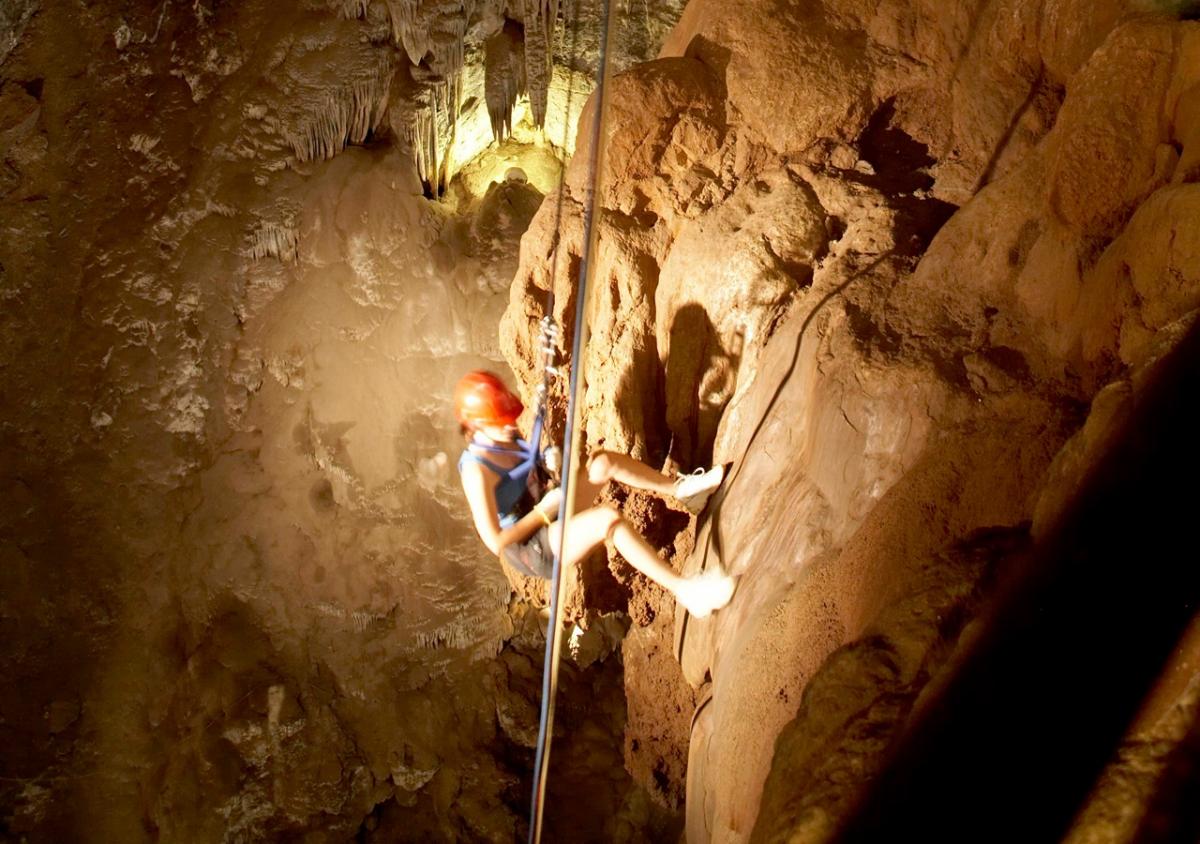 Moaning Caverns Adventure Park submerges visitors into a wonderful world of adventure with activities for all ages, ranging from cave tours, gemstone mining, Geode cracking, zip lining, and more. Additionally, these cave systems are one of the few that offer Expedition Tours through undeveloped portions of the caves that may require belly crawling, rafting, a helmet, and a greater sense of exhilarating adventure.
(209) 736-2708 | (866) 762-2837
---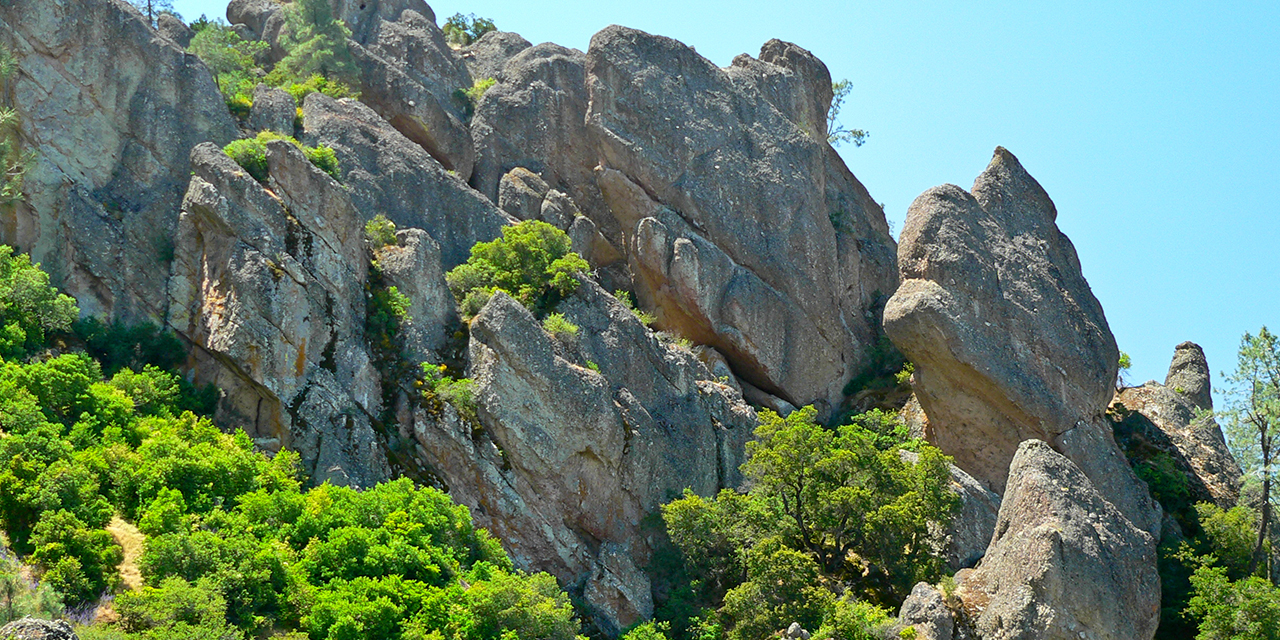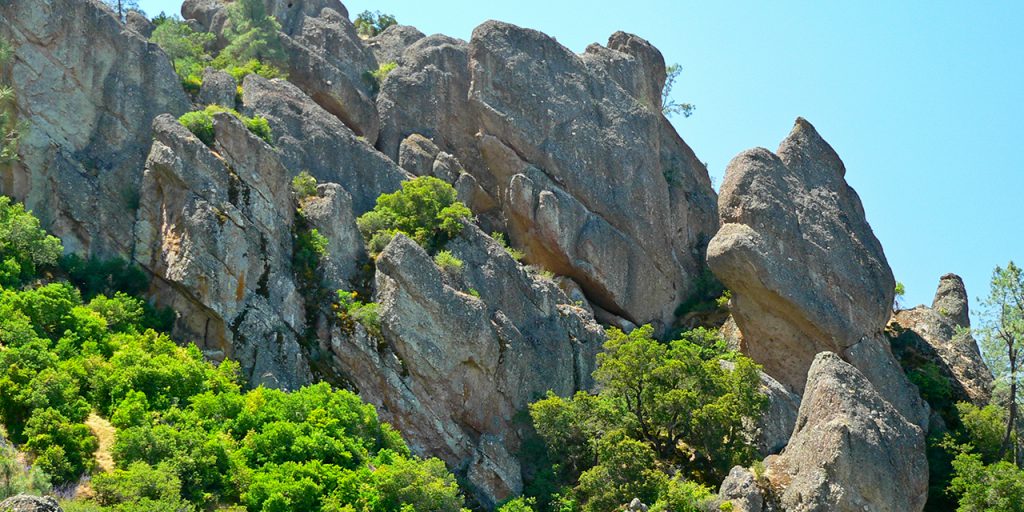 Pinnacles National Monument is home to the remains of volcanic eruptions and powerful explosions that moved enormous boulders into talus caves and other serene rock formations we see today. Hikers can enter these rare talus caves and emerge to towering rock spires, teeming with their own ecosystems. Prairie and peregrine falcons, golden eagles, and California condors can all be found in Pinnacles, offering delight to even the novice bird watcher. The Visitor Center is open daily year-round, and there is a high visitation spike during the peak season of March and April.
(831) 389-4486
---
Boyden Cavern, located in Kings Canyon National Park, is the deepest canyon in the United States and lies beneath the massive 2,000-foot marble wall of the famous Kings Gates. Visitors are delighted to find Giant Sequoias complimented by the natural beauty of the underground cavern. The 45-minute tour runs from May to September and is suitable for all ages.
(559) 784-1500
---
Sequoia National Park is host to Crystal Cave, where you can attend 5 different cave tours, including a Historic Candlelight tour or Wild Cave Tour! Crystal Cave is a treasure of ornate marble polished by underground streams and decorated with curtains of icicle-like formations. It is recommended that you purchased tickets at least 30 days in advance of your visit. Tours run daily from May to September.
(866) 807-3598
---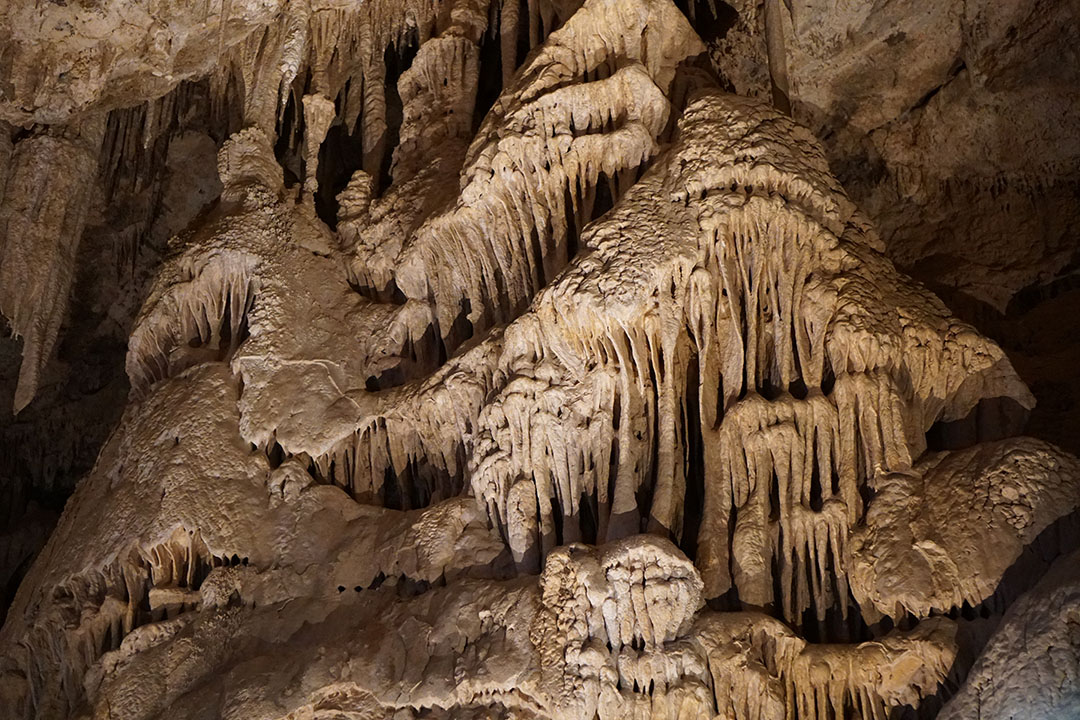 Mitchell Caverns Natural Preserve is located in the Providence Mountains State Recreation Area near the Colorado River. The caverns are home to two main caves, The Devil's House and Tecopa, as well as spectacular and intricate limestone formations inclusive of stalagmites, stalactites, helictites, lily pads, draperies or "cave bacon", curtains, and cave coral. The caverns are open year-round on weekends, and reservations are required.
(760) 928-2586
---
Sunny Jim's Cave is a historic sea cave located just north of San Diego, and features a man-made tunnel from inside the Cave Store, allowing visitors to enter the cave by land – although entering by sea will provide access to all seven fascinating, ocean-carved caves! This well-known cave was noted as a top, must-see sight in Southern California by the Encyclopedia Americana.
(858) 459-0746
---
Cave Definitions:
Speleology – the study of caves
Grotto – a room in a cave with moderate dimensions and richly decorated with formations.
Cavern – a very large chamber in a cave.
Stalactite – a type of formation that hangs from the ceiling of caves pushes downward as water droplets accumulate.
Stalagmite – a type of rock formation that rises from the floor of a cave due to the accumulation of material deposited on the floor from the ceiling deliveries.
Column – a formation created when a stalagmite and a stalactite join together, or by the growth of either to meet the bedrock.
Helictite – a speleothem found in limestone caves that changes its axis from the vertical at one or more stages during its growth. These are the most delicate of cave formations.
Soda Straw – s speleothem in the form of a hollow mineral cylindrical tube. Soda straws grow in places where water leaches slowly through cracks in rock as on the roof of a cave.
Flowstone – composed of sheet-like deposits of calcite formed where water flows down the walls or along the floors of a cave.
Cave Bacon – thin sheets of deposits also called draperies or curtains that descend from the overhanging portions of the wall. Many are translucent, and some have brown and beige layers that look like bacon.
Cave Coral – This type of speleothem has branching stems and nodular tips resembling marine coral. Growth rings are visible when cut into sections.