Advertise With us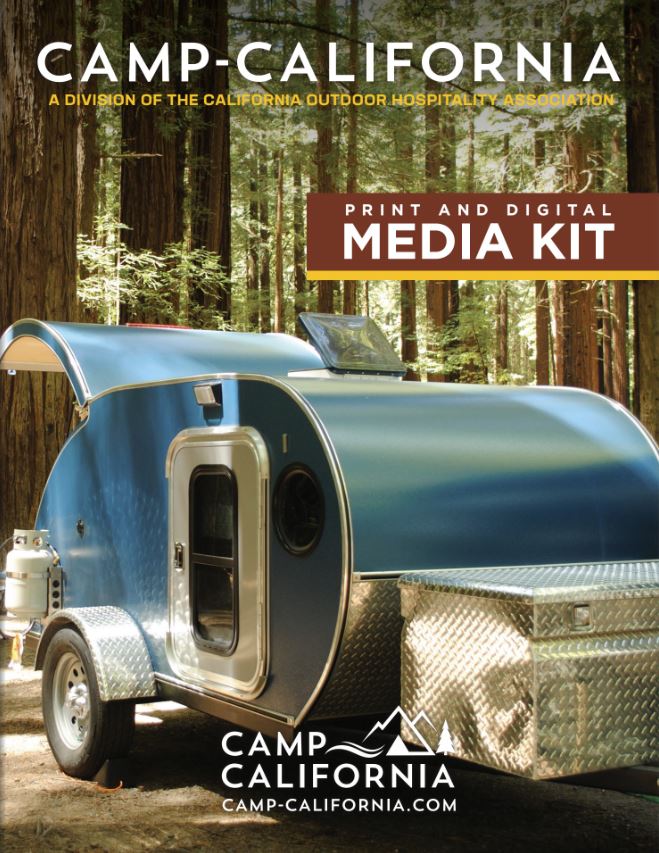 Whether your focus is visitors from California, the US, or abroad, wine tasters, foodies, tenters, beer drinkers, fishermen, class-A owners, Van-lifers, golfers, campfire makers, or marshmallow-roasters, etc., Camp California will prove to be an effective partner in achieving your advertising goals.
Our motivation is to inspire all those wanting to enjoy a bit of outdoor hospitality to go beyond the ordinary, to explore new ground, and seek adventure.  Camp California offers relevant information to help create the most memorable outdoor experience. 
How Do They Find Camp California?
Our users are outdoor enthusiasts … they are looking for things to do, places to camp, and new ways to enjoy California. They participate in organic searches thru Google or Yahoo, using key words like "campgrounds in california;" "california camping;" "california campgrounds;" "rv parks california." These terms all lead to Camp-California.com in top-ranked positions.
The collector's issues of the Camper's Guide to California are in the hands of camping consumers (and those hoping to be) from California to Australia. The 160,000 copies of the guide are distributed through all California visitor centers, retail locations, over 300 campgrounds statewide, consumer shows, and into southern Oregon and western Nevada. Another 20,000 digital copies are downloaded each year from Camp-California.com.
Inspiration
As the only and official statewide camping guide & website for California, editorial content is driving California's camping consumers to businesses who advertise with us.
Camp California publications provide inspiration to campers and are a smart place to promote your content. Inspiration is key. Whether the topic is about exploring California's iconic coastline, historical landmarks, natural beauty, charming towns, or major cities, the goal is to inspire campers to move about the state and see all that California has to offer. Your sponsored editorial content can draw campers to your destination, attraction, or business.
Camp-California.com Demographics
1 million page views a year
84% of visitors are from organic searches
50% of visitors are looking for a California campground
40% of visitors are exploring things to see and do while traveling California
Age:
21-30: 10.9%
31-40: 24.5%
41-50: 26.3%
51-60: 24.8%
61-70: 9.9%
Household Income:
Less than $50K: 18.3%
$50K-$75K: 23.6%
$75K+-$100K: 27.8%
$100K+-$150K: 17.5%
$150K+: 12.8%
For a media kit, contact our sales team:
(530) 885-1624 or by email at [email protected].