Use non-toxic cleaning supplies when washing your RV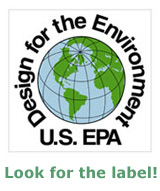 Harmful chemicals can soak into the ground and may even contaminate the park's groundwater and septic system. Try using biodegradable cleaners such as Thetford's Premium RV Wash and Wax, sold at most Camping World locations.
If you're unsure if something is safe for the environment, look for products that have a U.S. EPA's "Design for the Environment" seal or a "Green Seal Certified" label.
Information provided by Meaghan Bertram of Vineyard RV Park.