RV Insurance Policy For Your Recreational Vehicle
Home is where you park it.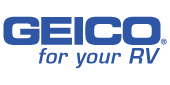 GEICO covers motorized recreational vehicles including Type A motorhomes, Type B motorhomes (van campers) and Type C motorhomes (mini motor homes), as well as sport utility recreational vehicles.
We also provide insurance coverage for towable RVs, including: conventional travel trailers, fifth-wheel travel trailers, travel trailers with expandable ends, folding camper trailers and truck campers.
GEICO even covers the toy-hauler you use to transport your motorcycle or ATV.
Steer clear of bumps in the road with RV insurance from GEICO! Call 1-877-GEICO-RV (434-2678) anytime to speak to one of our RV insurance specialists or request a quote online.