Wooden Boat Tour, Sausalito
Come for the romance – stay for the history. If there be pirates about, they be in the nooks and crannies of the old Sausalito waterfront. Walk the docks and hear the tales of scallywags and heroes who haunt these parts.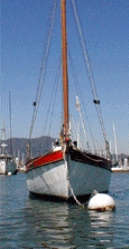 This stroll through time is led by Sausalito insider: local author, artist and nautical sign maker, Victoria Colella who brings you into the heart and soul of old Sausalito.
With a little encouragement, Victoria will sing her new Sausalito Sea Chanty while you enjoy tea and cookies at the boat lettering shack next to the WWII shipways.
HISTORIC WALKING TOURS
These 3-Hour all inclusive historic walking tours run on most Saturdays and Sundays from 12:30-3:30. $50 per person. Please call ahead to reserve.
WATERFRONT TREASURE HUNTS
There is no better setting for a treasure hunt than the Sausalito waterfront. Repleat with history and color, the Sausalito Wooden Boat Tour Treasure Hunt will have you searching for clues and paying close attention to the details as you seek the Gaff-rigged ketch or Block Island Cowe Horn with the unstayed mast. This treasure hunt is repleat with information and you will learn-as-you-look to win the treasure.
Boat tours available also.
3-hour all inclusive walking tours held on Saturday & Sunday. Call to reserve: 415.332.6608 or reserve online