Winter Wildlife Watching in San Diego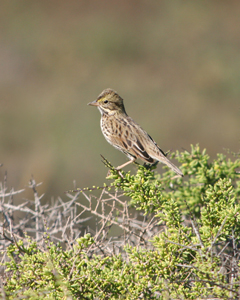 Fall migrants on the Pacific Flyway are starting to arrive in the South Coast area.
At the mouth of the Sweetwater River in Chula Vista lies San Diego Bay's largest remaining salt marsh. Part of the San Diego Bay National Wildlife Refuge, this 316-acre viewing site is home to rich bird life and typical marsh habitat, along with the Living Coast Discovery Center (formerly the Chula Vista Nature Center).
Trails offer views of San Diego Bay and Gunpowder Point, where Great Egrets, Snowy Egrets, and Northern Harriers are nearly always present.
Mudflats contain invertebrates sought by hundreds of migratory shorebirds, including willets, long-billed curlews, western sandpipers, and plovers.
The refuge also provides crucial habitat for six endangered species, California brown pelicans, California least terns, light-footed clapper rails, Belding's savannah sparrows, snowy plovers, and peregrine falcons. Biologists partner with the U.S. Fish and Wildlife Service, SeaWorld and San Diego Zoo's Wild Animal Park to captive-breed and release one of California's most endangered water birds – the Light-footed Clapper Rail.
The Living Coast Discovery Center, with its aquariums, nature gallery, Raptor Row and Eagle Mesa bird displays is a living, breathing, flapping, buzzing and splashing home to the unique animals and plants of Southern California.
A bit further south is Tijuana Slough National Estuarine Research Reserve, saved from development by a group of avid local residents. Southern California's largest estuarine wetland is one of twenty-three national estuarine research reserves. The Tijuana River Valley's tidal sloughs, beaches, uplands, and riparian corridors play host to nearly 400 bird species, including six endangered birds. Tijuana Estuary Visitor Center provides environmental educational facilities and various programs including bird walks and other events.
Looking ahead to next year, you'll want to check out the San Diego Bird Festival, presented by San Diego Audubon Society. An extensive array of field trips is offered, including pelagic trips.
For information about California's premier wildlife viewing site and nature festivals around the state, visit www.CaWatchableWildlife.org.