Turtle Bay Exploration Park, Redding
Turtle Bay Museum is the heart of the Turtle Bay experience. It contains permanent, interactive exhibits and two large special exhibition galleries.
The experiences here — underwater fish viewing, walking through historic re-creations, experimenting with scientific equipment, viewing art — are also springboards for the authentic outdoor experiences on the rest of the campus. The exhibits feature a mix of richly layered interpretative material, multimedia exhibits, science experiments, self-guided exploration, and play features.
The Botanical Gardens portion of the McConnell Arboretum & Botanical Gardens is the newest addition to Turtle Bay Exploration Park. The Gardens comprise 20 acres of mediterranean-climate display gardens, a children's garden, a medicinal garden, and two beautiful and unique water features.
The Arboretum extends over 200 acres with direct links to the award-winning Sacramento River Trail. The Gardens carry Turtle Bay's sustainability message to another level and express a very positive ethic about a harmonious fit between natural systems and human activity.

The Sundial Bridge at Turtle Bay crosses the Sacramento River in the heart of Redding, California. Opened July 4, 2004, the bridge links the north and south campuses of Turtle Bay Exploration Park and serves as a new downtown entrance for Redding's extensive Sacramento River Trail system.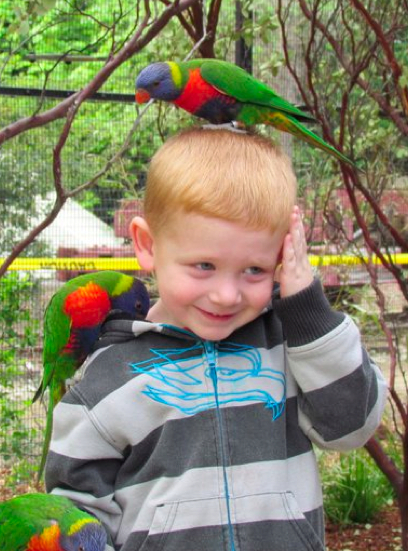 Experience the new year-round, interactive lorikeet exhibit:  Visitors will experience up-close and personal the majestic and colorful lories, or lorikeets, in our new, year-round, walk-through aviary. Often referred to as the clowns of the parrot world, lories are playful, colorful parrots from Australia. Not only are these birds charismatic, but they are very unique in that they eat nectar. Their specialized tongues look like a bottle-brush and they use them to scoop out nectar from flowers. Visitors will experience this sensation as the lories will fly, or jump down, landing on hands, heads or whatever else they feel is a good perch and eat the nectar directly from the guest's cup.
For more information, visit their website at http://www.turtlebay.org/