Trees of Mystery, Klamath
Directly in the center of the Redwood National and State Parks, visitors have been welcomed to this part of the world for over 50 years.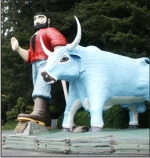 There is an 8/10ths of a mile groomed interpretive trail through the awe-inspiring Redwoods of Northern California. Part of the trail (The Trail of Tall Tales) is devoted to the myth and mythology of Paul Bunyan, America's larger-than-life logger from the turn of the century. The trail, museum, gift shop, and restaurant are geared toward the family or group traveler. mystery-gondola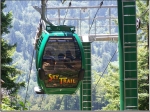 The trail is open and maintained year-round. There is a shuttle to Sky Trail for those who cannot easily walk the trail. In the summer months, the 49 foot 2 inch tall Paul Bunyan and his 35 foot tall friend, Babe the Blue Ox, waves and welcomes you to the Trees of Mystery. The free admission End of the Trail Native American museum is a privately owned collection.
More Info