Sonoma County Farm Trails
Supports sustainable agricultural diversity. Sonoma County Farm Trails members offer a variety of fresh in-season produce, outstanding products and an on-the-farm experience! You will also find many services offered by their Associate member businesses at their website.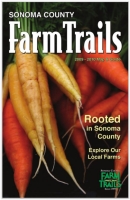 Fruits and vegetables are available directly from the farmer. Experience life on the farm with sheep, llamas, honey bees, butterflies and birds! Seasonal adventures include summertime berry picking, apple farms, pumpkins and gourds in the fall, Christmas trees in winter and baby animals and fields of flowers in the spring! Enjoy delightful wineries, breweries and cheese factories year-round. When you buy on the farm, you get more than just groceries, you get an experience to last a lifetime.
To obtain a print copy of the 2009-2010 Sonoma County Farm Trails Map & Guide, please visit your local Farm Trails business or visitor´s center in Sonoma County. You can download a copy of the map at their website.