Salmon Spawning Tours, Redwood Nat'l Park
In November thru January, the Redwood National and State Parks and Mill Creek Watershed & Prairie Creek present Salmon Spawning Tours every weekend (water/fish permitting). Witness the Salmon's annual magical migration. View salmon spawning and discover the amazing life history of the "Totem of the Pacific Northwest", from fresh water to salt water and back again to the waters of their birth.
These free, guided trips to view salmon spawning will run every weekend from Thanksgiving through December, water and fish conditions permitting.
Morning trips run from 9 a.m. – 12 p.m. and afternoon trips are from 1 p.m. – 4 p.m.
The trips converge either at the Mill Creek Watershed (approximately 10 miles north of the Redwood National Park Hostel) or Prairie Creek Redwoods State Park (15 miles south of Redwood Hostel), depending on the water and fish conditions of the day.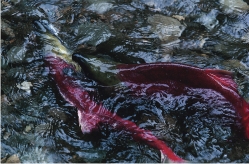 During the Mill Creek Watershed trips, folks carpool in their own vehicles throughout the Mill Creek Watershed (a tributary of the Smith River) which is regarded as one of California's most ecologically significant areas and a top productive stream for Coho Salmon.
During the Prairie Creek trips, participants drive to various locations and hike into the old-growth redwood forests to reach prime spawning viewing spots.
Registration is required; call (707) 465-6191.