Rocks – A Family's Passion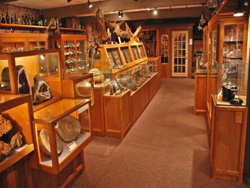 The family passion for rocks turned a hobby into a full time business when John and Terry decided to open a store utilizing the family's extensive rock collection and John's jewelry making skills. This combination served Tehama County until 1993, when Bill came on board and really shook things up. Four years later, the business remodeled, adding an 800 square foot mineral and mining museum and additional retail and manufacturing space.
The Gaumer family interest in gems and minerals has been actively pursued for four generations as John O. Gaumer was a gold miner in Northern California for 25 years. His son Al continued the tradition with formal education in the field of mining engineering before returning to gold mining with his father and a lifelong pursuit of prospecting and rockhounding throughout the western United States.
Gaumer's Mineral and Mining Museum features fifty years and four generations of collecting. Beautiful, rare gem and minerals specimens from around the world , stone carvings, fossils, Native American artifacts, a fluorescent mineral display, and a detailed replica of an old mine tunnel complete with ore car, tracks and mining equipment. The free museum is open to the public during normal business hours; group tours are available for schools and special interest groups.
For more information visit gaumers.com