National Yo Yo Museum, Chico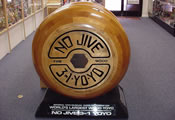 The worlds largest public display of yo-yo's and contest history is open year round. Admission is free and tours are always being given.
Located in Northern California, nestled in the historic downtown of Chico, the National Yo-Yo Museum gives life to the history and current events of the yo-yo world.
The National Yo-Yo Museum is located at 320 Broadway in Downtown Chico. All visitors are encouraged to visit and spend some time enjoying historic Downtown Chico.
The longest running National Championship in the world. Held annually in Chico, CA on the first Saturday of October, the National Yo-Yo Contest is the premier yo-yo contest.
For more information visit National YO YO Museum