McArthur-Burney Falls Memorial State Park, Burney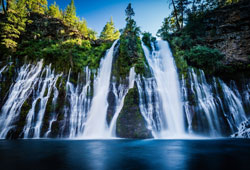 The park is within the Cascade Range and Modoc Plateau natural region, with 910 acres of forest and five miles of streamside and lake shoreline, including a portion of Lake Britton.
The park's centerpiece is the 129-foot Burney Falls, which is not the highest or largest waterfall in the state, but possibly the most beautiful.
Teddy Roosevelt once described Burney Falls as the "eighth wonder of the world".  Great views of the falls are accessible right from the parking lot, while a short easy hike takes you to the base.  A 1.3 mile trail circles the falls.
Brand new store!  A great place to take a break from your busy day hiking, camping, or boating, the Park store has a variety of healthy grocery items, gifts, and souvenirs.  We also have a wide variety of snack items and a beautiful setting to relax and enjoy them.
The park is northeast of Redding, six miles north of Highway 299 on Highway 89 near Burney.