Hike & Climb in Bodega Bay
Around the tip of Bodega Bay stands Bodega Head part of the Sonoma Coast State Park.  Here you will find trails to hike, vistas to photograph, whales to watch, a boat to captain, and the very best trees to climb!  Pack a picnic lunch and come prepared for wind.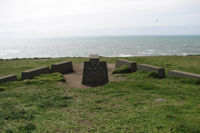 Bodega Head Trails – A hike on Bodega Head offers some of the most beautiful vistas in the county. On a clear day you can see a panoramic view of Bodega Bay, the Sonoma and Marin coasts, Point Reyes peninsula, Tomales Point and beyond. The first trail follows the edge of the cliff around the headland.  The second trail is marked Bodega Head Trail. After passing a picnic table, you'll see a side trail that goes down to a secluded beach.
Fisherman's Memorial – Placed on a cliff looking west towards the Pacific is another small memorial to the fishermen of Bodega Bay. Gazing at the Pacific from the memorial site is always a reminder of the risks taken every day by commercial fishermen. Walk down to the water's edge from the memorial on a less than perfect day and the reality of what commercial fisherman face daily can begin to be appreciated.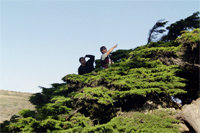 Climbing Trees – Several cypresses have grown together creating a tree cave with winding, twisting trunks that children can climb up and through the canopy.
Directions:  In the town of Bodega Bay, turn onto East Shore Road at milepost 11.05. Turn right at the stop sign onto Bay Flat Road, go three miles, and stay right to the west parking lot.