Hidden Falls Hike
Hidden Falls Regional Park opened to the public on October 30, 2006.
The 221-acre open space park is located at 7587 Mears Place, north of Mt. Vernon Road between Auburn and Lincoln. Features of the new park include seven miles of natural surface trails suitable for hiking, running, biking and horseback riding. In addition to the more vigorous activities on the natural surface trails, park visitors are able to enjoy fishing, picnicking, wildlife viewing, photography and other passive recreational pursuits. A paved, accessible trail is also available, which begins near the parking lot and winds through a live oak grove and picnic areas.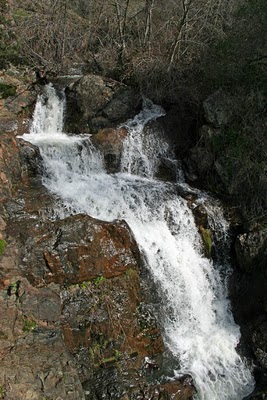 Outstanding natural features at Hidden Falls include Coon Creek and Deadman Creek, groves of blue oak woodlands and a year-round waterfall, 20-30 foot high. Other park amenities include a paved access road, 50-space paved parking lot, equestrian staging area, utilities, restrooms and a 60-foot emergency-access bridge over Deadman Creek.
To visit the park, take Atwood Road west from Highway 49 in Auburn until it becomes Mt. Vernon Road. Follow Mt. Vernon Rd. to Mears Road (about 3.5 miles from DeWitt Center). Turn right (north) on Mears Road and follow to Mears Place. Park hours are from one half hour before sunrise to one half hour after sunset daily.
For more information and to download hiking maps visit Hidden Falls.