Griffith Observatory, Los Angeles
With over 4,107 acres of natural terrain covered with California oak trees, wild sage and manzanita, Griffith Park is the largest municipal park and urban wilderness area in the United States.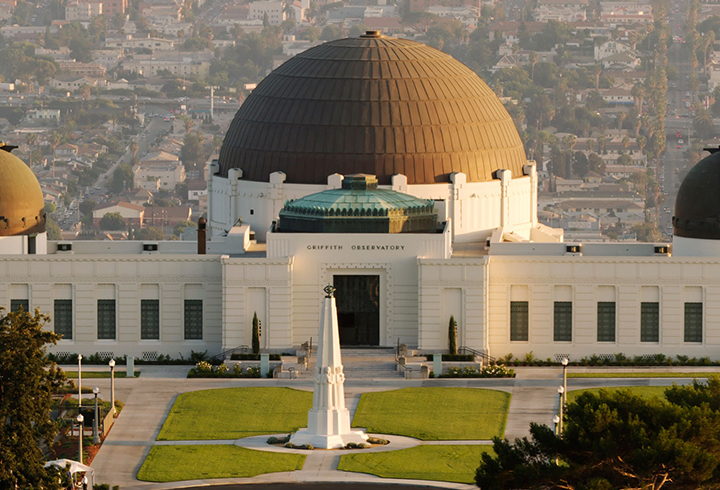 Situated in the eastern Santa Monica Mountain range, the Park's elevations range from 384 to 1,625 feet above sea level with climates varying from semi-arid chaparral foothills to forested valleys. Over the years recreational attractions have been developed throughout the Park, however an amazingly large portion of the Park remains virtually unchanged from the days when Native American villages occupied the area's lower slopes. Today's Griffith Park offers numerous family attractions, an assortment of educational and cultural institutions, and miles of hiking and horseback riding trails.
Originally a part of the Spanish land grant, Rancho Los Feliz, the park was named for its former owner, Colonel Griffith J. Griffith. Born in Glamorganshire, South Wales, Griffith immigrated to the United States in 1865, eventually making a personal fortune in California gold mine speculation. In 1882, Griffith settled in Los Angeles, and purchased a 4,071 acre portion of the Rancho Los Feliz, which stretched northward from the northern boundaries of the Pueblo de Los Angeles. On December 16, 1896, the civic-minded Griffith bequeathed 3,015 acres of his Rancho Los Feliz estate as a Christmas gift to the people of Los Angeles to be used as parkland. The enormous gift, equal to five square miles, was to be given to the city unconditionally – or almost so.
"It must be made a place of recreation and rest for the masses, a resort for the rank and file, for the plain people," Griffith said on that occasion." I consider it my obligation to make Los Angeles a happier, cleaner, and finer city. I wish to pay my debt of duty in this way to the community in which I have prospered."
Just a few of the Griffith Park attractions:
Autry National Center
Bicycle Rental
Greek Theater
Griffith Merry-Go-Round
Griffith Observatory
Griffith Park Southern Railroad
L.A. Equestrian Center
L.A. Live Steamers
L.A. Zoo
Pony Rides
Travel Town
For more information visit Griffith Park>