Fisherman's Wharf
As San Francisco's #1 visitor destination, we have a lot to offer out-of-towners and local Bay Area residents alike. The tangy salt air and fabulous views are just the beginning of a memorable experience.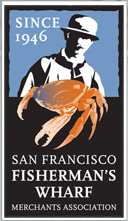 Most of the boats berthed at Fisherman's Wharf belong to a third generation of fishing craft piloted by descendants of the fishermen who have made their livelihoods on the waters of San Francisco Bay for many generations.
Fisherman's Wharf, which has been the home of San Francisco's colorful fishing fleet for nearly a century and a quarter, is world famous for its wide variety of seafood. Much of this fame is due to the annual harvest of that most delectable of all crustaceans, the Dungeness crab of San Francisco.
You'll find the city's freshest seafood at our world class restaurants. San Francisco's rich seafaring history comes alive on our waterfront. Exciting cruises and tours begin at our doorstep.