Explore Captain Jack's Stronghold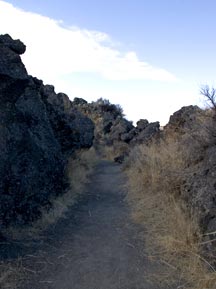 During the Modoc Indian War in 1873, Captain Jack and 50 indians held off and over 300 US Army troops by hiding and attacking from a natural stronghold. Along the shores of Tule Lake, ancient lava flows had formed a rugged, uneven terrain which became known as Captain Jack's Stronghold. The area was cut with deep lava trenches and dotted with small habitable caves, creating a natural fortification and a seemingly endless variety of places through which one could move unnoticed.
These trenches offer a great play space and learning opportunity for kids.  During a recent trip, 30 youth from a local Boy Scout Troop spent over an hour playing "Indian," running through the trenches, dodging make believe arrows, planning "surprise" attacks, and enjoying good old fashion fun!
Other activities nearby include Lava Beds National Park, Tule Lake, 6000 year old petroglyphs, and the largest WWII Japanese Internment Camp.
A trip to this remote section of Northern California affords days of activities and histroy lessons from a variety of eras.