Discover California's Most Precious Resources: Gold, and Great Reds
There's gold in the foothills, but these days, it's red.
Zinfandel, planted not long after James W. Marshall discovered shining flecks in the river at Coloma, has always thrived in the region's warm summer days and temperate nights. For many years it was turned into sweet white Zinfandel. Over the last decade or so, intense (red) Sierra Zins have gained a foothold in the region—and a passionate following.
Creative new winemakers are migrating here, as they are discovering Gold Country is an excellent place for other reds, too, namely Rhône varietals such as Syrah and Mourvèdre, Italian Barbera and Sangiovese, and Spanish Tempranillo. Get to know the Sierra Foothills' modern treasures on this journey that leads you past rolling hills and spreading oaks to fine wines and towns that are historic and increasingly sophisticated.


Trip Time: 3 days


Swing by the California Welcome Center in Auburn. The staff will whet your appetite for the trip with details on local history and attractions, and maps to guide you along the way.
Travel State 49 to historic Coloma in El Dorado County. The pretty riverside village at Marshall Gold Discovery State Historic Park is where modern California began.
Coloma is also the epicenter of the Northern California rafting industry, and there are many options for one or two day adventures on the American River.
Just south of town, David Girard Vineyards, with its gracious Mediterranean-style tasting room, focuses on Rhône reds—Syrah and Grenache—and white Roussanne and Viognier. Winemaker Mari Wells has experience at Gloria Ferrer and Pellegrini, where she worked with well-known winemaker Merry Edwards.
When hunger calls, take Cold Springs Road or State 49 into downtown Placerville, with the most unique and diverse shopping district in the area. Woven amongst businesses that date back over 100 years are such treats as Placerville Hardware (the oldest hardware store west of the Mississippi), Placerville News, Combellack's, Randolph Jewelers and the Cary House. Choose from dozens of foodie options.
Continue the Rhône discoveries about 15 miles east of town. Wines from Holly's Hill Vineyards blend European earthiness with mountain fruit. The tasting room looks out to stunning views of the vineyards, at 2,700 feet.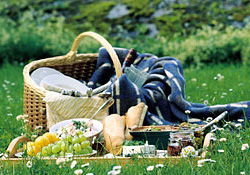 Next leg of the trip: Amador County, Zinfandel central. Head south on State 49 to Plymouth, then east on Shenandoah Road. The 150-year-old Sobon Estate is part winery, part museum. When the wine being poured in the tasting room is from 100-year-old Zinfandel vines, it's hard to tell where museum breaks off and winery begins.
In a region of big Zins, those at Story Winery, located nearby off Shenandoah Road, might be the heartiest of all. The setting is beautiful, with oak-canopied picnic tables overlooking the Cosumnes River Canyon.
Head back into Plymouth, then south to Sutter Creek to pick up some lunch. Now put on your hard hat and plunge beneath the earth to get a feel for the life of a Sierra miner at Black Chasm Cavern. Afterward, attempt to fund your retirement by panning for gold.
For a taste of Calaveras County and Spanish and Italian varietals, travel south from Sutter Creek on State 49 to Angels Camp, then east to Murphys. Ironstone Vineyards makes about 300,000 cases of wine a year and draws some 500,000 visitors to its gardens, caves, museum (containing the world's largest crystalline gold piece), stamp mill where kids can learn mining techniques, and outdoor concert venue.
Everything is twisted at Twisted Oak Winery, a few miles south in Vallecito—the road going up, the humor on signs, the wine labels ("@#$," reads one), and the grand oak at the top of the hill—to say nothing of the vast number of rubber chickens on display. But the Spanish- and Rhône-style wines are serious.
Savor your visit over lunch or dinner on the patio at Murphys Grille back in Murphys. The steaks are a good bet, with a glass of Sierra Foothills red, of course.
These wineries are just a few of the dozens along California's Gold Country. For more information visit these our story on Sierra Foothill Wine>