Step Back in Time at the Del Mar Racetrack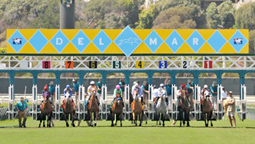 The Del Mar Racetrack is celebrating 75 years as a world-class Thoroughbred racing destination. It welcomes the industry's top athletes and California's most spirited partygoers for Del Mar's famous Opening Day. Opened in 1937 by Bing Crosby, the seaside track has played host to celebrities for decades, from Lucille Ball and Desi Arnaz to the stars of Entourage.
Unlike any other track in the nation, Del Mar is known for its sophistication, fashion and excitement of horse racing that attracts visitors from across the country looking to capture the Old Hollywood allure of the San Diego destination.