Charles M Schultz Museum, Santa Rosa
Visit this museum to learn about Charles Schultz and his work. The Education Room at the Schulz Museum is a place for visitors to draw, write, and learn about cartooning.
In the Downstairs Changing Gallery, they strive to present informative, innovative, and always interesting exhibitions for visitors. In past exhibitions, they have explored the histories of particular Peanuts characters, Charles Schulz's own cartooning influences, and how Peanuts has been portrayed in American popular culture.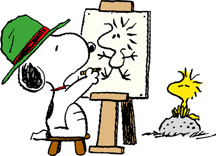 In addition to the exhibitions, the Schulz Museum provides a wide variety of programs and presentations throughout the year, giving visitors opportunities to: meet professional cartoonists; view some of Schulz's favorite movies in our 100-seat theatre; make hands-on crafts and learn about different cartooning techniques; and attend Members-Only parties. Our Special Group Programs provide visitors with even more hands-on opportunities, including Home School Days, Girl Scout Days, and special guest presentations and lectures.
When the Charles M. Schulz Museum and Research Center opened in August 2002, they wanted to make a video that would give a glimpse into Schulz's personal life in Santa Rosa, California, and introduce visitors to the Museum that was created in his honor. In the video available at their website visitors will meet Schulz's widow, Jean, and the Museum's architect, David Robinson, as they describe the process for creating this Museum.