Carson Falls Hike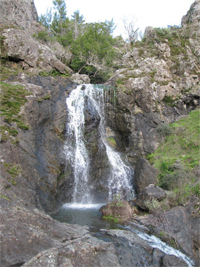 Carson Falls Hike – Marin County's Carson Falls is hardly a secret, but a visit to the dramatic cascades on a rainy winter day can be a lonely experience. Carson Falls, on the flanks of Pine Mountain, is accessed by most visitors via Pine Mountain Road, a fire road very popular with cyclists. During the dry months, Pine Mountain trails are hopping with bikes, but winter brings wet empty trails, and cool temperatures perfect for hiking.
Take Bolinas road for 4 miles, stop at the parking lot on the left side of the road, cross back over to the trail head where you can find a map and marker to the falls, it is a pretty easy hike to the falls, past the falls is somewhat steep and rocky but well maintained, the trail ends at a fire road, if you take the road to the left you will end up at Kent lake a mile or so. It's a beautiful hike, dog and child friendly.
Tips: it can be windy here and cool in the winter and very warm in the summer, dress accordingly, spring brings an abundance of wild flowers and wild life to life.
For more information visit Bayhiker.com