California's Colorful History
Explore California's colorful historical past in this journey through the southwest.
Trip Length: 2 days
Day 1
Start your visit to Barstow at Tanger Outlet Center, located at the Lenwood Rd. exit off I-15. Here you will find plenty of great outlet shopping at over 35 brand name stores. While you're here, you can enjoy a bite to eat or sip on a smoothie at the food court before heading to the Barstow California Welcome Center for last-minute trip details or directions.
To continue, head out on I-15 north toward Barstow and exit at Barstow Rd., where you can visit the Mojave River Valley Museum and the Desert Discovery Center, home of the Old Woman Meteorite.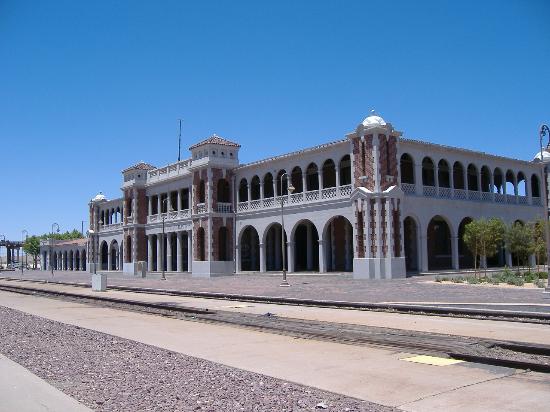 Continue on Barstow Rd. until you get to Main St., where a left turn will put you on to Old Route 66! Enjoy our Murals on Main St. as you make your way to First St. and the Historic Harvey House Train Station. Here you can find more nostalgia as you visit the Route 66 Museum or visit the Western American Railroad Museum for a little "track time." Their outdoor display of engines and other rail cars is sure to delight as well!
Travel across the Mojave River Bridge to Old Highway 58, where you can find great Mexican food at Hacienda Colima. Or, head right around the corner for some of the best steak around at the Idle Spurs Steakhouse. You can wrap up your day by continuing east on Old Highway 58 for about 3 miles to the only remaining drive-in in the high desert for a double feature. Oh, and don't forget the popcorn!!
Day 2
Begin your second day in Barstow with a visit to Starbucks on East Main St. Before jumping on I-15 N, head across the street to one of the world's busiest McDonald's and visit their unique gift shop. Once you're revved up and ready to go, head north to the Ghost Town Rd. exit off I-15, where a right turn and then a left will take you to an old Five and Dime at Peggy Sue's Nifty Fifties Diner. Enjoy a walk back through time as you explore their backyard oasis before heading in for some Chubby Checker fries and an Elvis burger. Don't forget to do the twist!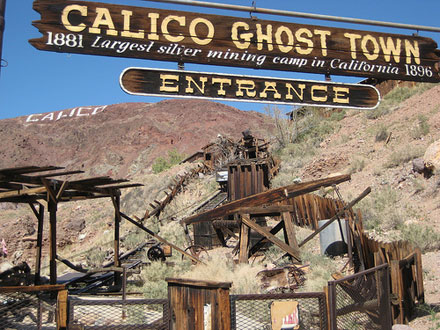 Your next stop back in time will be found farther up Ghost Town Rd. as you visit the old West silver mining town of Calico . Rich in 1800s history, Calico ghost town is a San Bernardino County Park formerly owned by Walter Knott of Knott's Berry Farm. Here you can explore historic buildings, Maggie's Mine and museums, or take a ride on the C & O Railroad while sipping on a refreshing sarsaparilla. Wrap up your day at Calico by watching the ladies at the Pottery Shop paint their wares, the folks in the leather shop tanning some hide, the blacksmith banging around in the smelter, or if you're lucky enough, watching a real live gun fight! A trip to the ice cream parlor on your way out is a great way to ease into the final leg of your journey.
Head out on Ghost Town Rd. to Ft Irwin Rd., where you will continue approximately 15 miles through wide open desert to Rainbow Basin, a geological wonder that is home to many petroglyphs and rock formations. Here you can hike on nicely groomed dirt trails while reflecting on your last two days, all while enjoying a breathtaking sunset only the Mojave Desert can offer!