California State Railroad Museum, Sacramento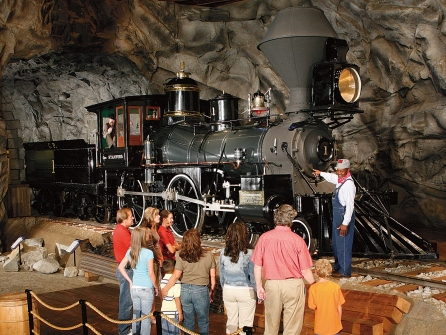 Located in Old Sacramento, the California State Railroad Museum is a complex of historic facilities and unique attractions. Widely regarded as North America's most popular railroad museum, there is something here for everyone! Throughout the year, experience lavishly restored trains, engaging exhibits, and unique special events. Weekends April 25-September 27, ride behind a real steam locomotive.
First opened to the public in 1976, the California State Railroad Museum complex is one of Sacramento's largest and most popular visitor destinations. Over 500,000 visit the Museum annually, with guests traveling from throughout the world to experience this world-renowned facility.
The California State Railroad Museum complex consists of six original, reconstructed, and new buildings completed at a cost of $30 million. The primary exhibit building, the Railroad History Museum, totals 100,000 square feet. Completed at a cost of $16.1 million, it opened in May 1981.
With over 225,000 square feet of total exhibit space, the buildings within the California State Railroad Museum complex use stimulating exhibits, enthusiastic and knowledgeable docents, and beautifully restored railroad cars and locomotives to illustrate railroad history in California and the West.
Throughout the main Railroad History Museum building, 21 meticulously restored locomotives and cars and numerous exhibits illustrate how railroads have shaped people's lives, the economy, and the unique culture of California and the West. Included are a Pullman-style sleeping car, a dining car filled with railroad china, and a Railway Post Office that visitors can actually step aboard.
Location – The California State Railroad Museum is located at the corner of Second and "I" Streets in Old Sacramento. Scroll down to "Additional Information" for directions to reach the Museum by automobile and via Amtrak.
Parking – A small number of limited term, metered parking spaces are available on the streets of Old Sacramento. However, these spaces are not suitable for guests visiting longer then 90 minutes. All-day parking is available in the large public garage at the I Street entrance to Old Sacramento, for a nominal fee.