Cable Cars
No visit to San Francisco is complete without a ride on the historic cable cars. There are 3 routes in operation and a visit to the "barn" is worthwhile.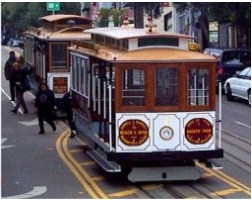 Basically, there are three cable car routes in operation, and it helps to know their respective destinations. At Powell and Market streets, there is a cable car turntable which serves as the beginning stop for two lines, the Powell-Mason and Powell- Hyde lines. The Powell-Mason line begins at the Powell/ Market turntable, and the line runs from there up and over Nob Hill and down to Bay Street at Fisherman's Wharf. The Powell-Hyde line also begins at the Powell Market turntable and runs over Nob and Russian hills before ending at Aquatic Park near Ghiradelli Square. Both these lines end near Fisherman's Wharf, but at different areas, and the routes are significantly different. Paying close attention to the signs on the cable cars will help you distinguish where in Fisherman's Wharf you will find yourself.
The California Street line runs East-West from the Financial District, through Chinatown, over Nob Hill and stops at Van Ness Avenue. Since all the cars on this line have the same routes, the signs are painted directly on the car.
"The Barn"
Inside the historic Cable Car Barn & Powerhouse,visitors can view the actual cable winding machinery from an elevated gallery, as well as the path of the cable entering the building and leaving underneath the street in the sheave room viewing area.
Also on display are various mechanical devices, such as grips, track, trucks, cable and brake mechanisms with corresponding explanations.
Historic background information gives the visitor a peek at the cable cars' glorious past. Included in these displays are three antique cable cars: a Sutter street dummy and trailer, and the first cable car (1873). Also on display is a photo narration of the reconstruction effort 1982-1984.
The barn is located at 1201 Mason Street San Francisco, CA 94108 (corner of Mason and Washington Sts.)