Blossom Trail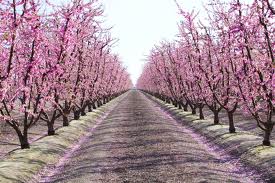 Take this self-guided motor or bicycle tour, organized by the Fresno County Blossom Trail Committee, a partnership between the County of Fresno and the Chambers of Commerce in Sanger, Kingsburg, Reedley, Orange Cove, Selma and Fowler to celebrate and feature the beauty of Fresno County's agriculture and a few historical points of interest. Traditionally the best time to see the Blossom Trail is from the end of February through the middle of March. Panoramas of orchards full of fruit trees alive with fragrance and bursting with blossoms await you.
The blossom season begins in February and runs through March. For your greatest enjoyment, plan to visit during this time. Come back in the summer to taste the delicious fruit.
How to recognize the Blossoms you see…
Almond Blossoms have white petals. Two or more varieties may be planted in the same orchard for cross pollination by bees. Harvesting, usually done mechanically, runs from late Aug. to early Oct.
Plum Blossoms are white. At least two varieties will be planted in an orchard for cross pollination. Over 200 varieties are grown commercially. Harvested in mid to late September.
Apricot Blossoms have pink petals. Fewer than 12 varieties are grown commercially. Harvest season lasts two to three weeks during mid to late May.
Peach and Nectarine Blossoms feature pink to red petals and bloom at the same time. Over 100 varieties are grown commercially. Harvest runs mid-May to October.
Apple Blossoms have white petals. Up to six varieties are grown commercially in Fresno County. Harvest is Aug. to Nov.
Citrus Blossoms are white with most aromatic fragrance. Navel and Valencia oranges, and lemons are the most common citrus grown locally.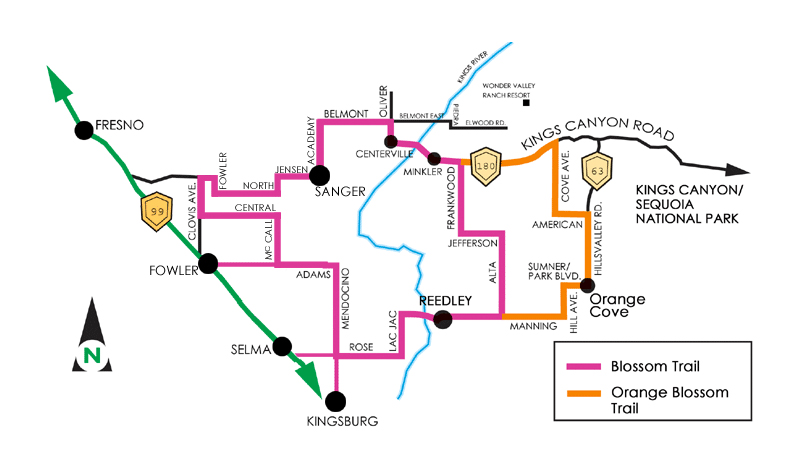 For more information visit Fresno County Blossom Trail