California Mission: Santa Ines
Mission Santa Inés was founded 17 September 1804 (19th in order) by Padre Estévan Tápis. The mission is named for Saint Agnes. The Indian name was Alajulapu. This is the last mission founded in Southern California.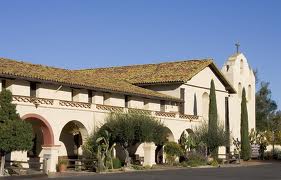 Continuous restoration and a beautiful location in the Santa Ynez valley (don't confuse Santa Ynez with Santa Inés!) make this a must-see visit. The church is active. (Note: Mission Santa Inés celebrates its bicentennial in 2004. See our bicentennial page for more information.)
The mission is in Solvang about three miles East of U.S. 101. Take the Highway 246 exit at Buellton and travel East toward Solvang. Go through Solvang (watch your speed, the limit is 25 mph) to the signal at Alisal Road. Keep going straight on 246. The mission is a very short distance past the signal on your right (1760 Mission Drive/Highway 246) (California Landmark 305). GPS 34°35'26″N 120°08'25" at the Blessed Serra statue by the front door.
Courtesy of missiontour.org