California Mission: Santa Cruz
Mission Santa Cruz (Misión la exaltación de la Santa Cruz) was founded 25 September 1791 (12th in order) by Padre Fermin Francisco de Lasuén.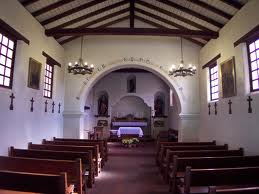 The mission is named for a feast day in the Church calendar which occurs on September 14: The Exaltation of the Holy Cross. The Indian name was Aulintac. The original mission was built on the banks of the San Lorenzo River but flooded so the next was moved to the top of a near-by hill (Mission Hill). Earthquakes in 1840 and 1857 destroyed the church. In 1931 a small replica of the original mission church was built. This is the primary item to see now. There is no active church at the mission.
Getting to the mission is fairly easy but requires some concentration as the streets you have to navigate tend to change from freeway to city streets fairly quickly and you have to act accordingly. If coming Northbound on California 1 you will have to take an exit that causes Highway 1 to merge with California 17 coming from the San Jose area (if coming from San Jose keep going straight as 17 merges with 1). Just across the river those coming from the redwoods area (California 9) will also merge with Highway 1 Northbound. Now, stay to the left. At Mission Street (a signal) turn left. If you are coming Southbound on California 1 you will want to turn right onto Mission. In either case stay to the left on Mission for a short distance and at the Holy Cross Elementary School turn left onto Emmet Street. The mission is two blocks on the right at 126 High Street (California Landmark 342).