California Mission: Santa Barbara
Mission Santa Bárbara was founded 4 December 1786 (10th in order) by Padre Fermin Francisco de Lasuén. The mission is named for Saint Barbara and carries the nickname "Queen of the Missions" for its beautiful exterior (the Indian name was Taynayan).
It is the only mission with two towers. Parts of the water system for the mission are still in use today by the city of Santa Barbara. The church is active.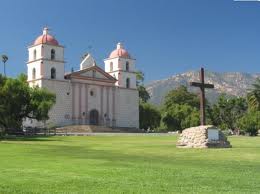 The mission sits on a hill above much of the city of Santa Barbara. From U.S. 101 exit at Mission Street. Head inland (left on Mission from Southbound 101 or right on Mission from Northbound 101). Just stay on Mission Street for about a mile. It will intersect with Alameda Padre Serra. Turn left and in a couple of blocks it will open up onto Mission Park and you'll see the mission directly ahead of you. (Signs in the area direct you by a slightly different route; either will work just fine.) Parking is to the left of the fountain as you face the mission. GPS at the Serra statue in front of the gift shop:  34°26'02″N 119°43'04″W. (California Landmark 309)
Courtesy missiontour.org