California Mission: San Rafael Arcangel
Mission San Rafael Arcángel was founded 14 December 1817 (20th in order) by Padre Vicente de Sarria. The mission is named for Saint Raphael the Archangel.
The Indian name was Awániwi (Nanaguami). The mission was originally an asistencia (sub-mission) of San Francisco de Asís and used as a place for the sick of that mission to recover. The current buildings are a replica built on the approximate site of the original. There is an active church at the Mission site and the Mission itself is often used for special services (e.g., I had to wait for a funeral to see the inside).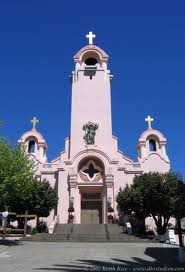 The Mission is approximately 11 miles North of the Golden Gate Bridge off of U.S. 101 in San Rafael. Both Northbound and Southbound 101 take the Central San Rafael exit and proceed to 5th Avenue. Proceed West (Northbound left turn and Southbound right turn) a third of a mile to A Street. The mission is at 1104 5th Avenue at A Street (California Landmark 220). There is parking meter parking on the street and just beyond the Mission is a right turn into a steep driveway leading up to a small parking area next to the large Church of Saint Raphael.