California Mission: San Luis Obispo de Tolosa
Mission San Luis Obispo de Tolosa was founded 1 September 1772 (5th in order) by Blessed Junípero Serra. The mission is named for Saint Luis, Bishop of Toulouse.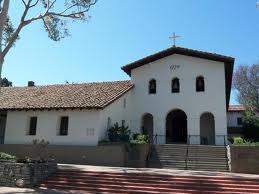 The Indian name was Tishlini. The mission is the halfway point in the chain and is often called the "Prince of Missions." Because of flaming arrows, the mission was built with tiles; the first roof tiles made in California. In the late 1800's the mission was remodeled as a parish church; a New England steeple was even added. The steeple was removed and the mission restored in 1934. The church is active.
The mission is in the middle of downtown San Luis Obispo at the corner of Monterey and Chorro Streets. Exit U.S. 101 at either Marsh (if Northbound) or Broad (if Southbound) Streets and proceed as shown in the map below (Marsh and Higuera are one-way streets in the direction indicated and Monterey is closed in front of the Mission). There are various parking lots in the area; depending on the day and time of day you may have to search some for a spot to park (first try the Mission parking lot with entry just behind the Mission church). GPS at the Serra statue (see picture above) 35°16'34″N 120°40'05″W. (California Landmark 325)
Courtesy of missiontour.org