Califormia Mission: San Carlos Borromeo de Carmelo
Mission San Carlos Borromeo de Carmelo was founded 3 June 1770 (2nd in order) by Blessed Junípero Serra. The mission is named for Saint Charles Borromeo.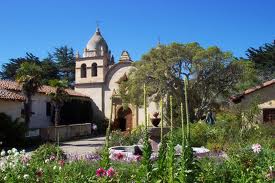 mission san carlos de borromeo de carmelo ccThe Indian name for the second location was Eslenes (or maybe Esselen). It is known for being Blessed Serra's headquarters and he is buried in the sanctuary beside the altar, in the chapel. There is no active church at the mission.
The mission is located at the South end of Carmel, about half a mile off of California Highway 1 (Cabrillo Highway). Traveling South on 1 from Monterey turn right onto Rio Road. If coming North on 1 from a coastal drive through Big Sur (a very scenic drive!) turn left onto Rio Road. Proceed to the mission at 3080 Rio Road (California Landmark 135).
Courtesy of missiontour.org