Museums & Landmarks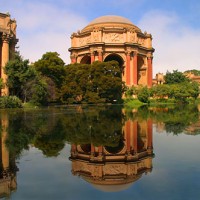 No Visit to a California destination would be complete without visiting one of the many museums. California has a reputation as a haven for people with creative minds, and you can see this in its multifaceted cultural offerings. Arts abound here in four main formats: large-scale, world-class organizations; smaller, quirkier museums, often showcasing the Golden State's history and its abundant idiosyncratic subcultures (think surfers, Silicon Valley techno-wizards, and Peanuts aficionados).
When the weather hinders traditional camping activities (or not) stretch your mind with a visit to one of California's museums. Need more encouragement? Top 10 Reasons to Visit a Museum
California Missions
The missions of California were Spanish settlements initiated by Spanish King Charles III and built between between 1769 and 1823. The chain of 21 primary missions along California's El Camino Real ("The King's Highway") established a unified system of commerce for the whole area in advance of the founding of towns and cities. These farms, each located 1 day's journey away from the next would ensure a contiguous trade route along the coast. Modern day U.S. Highway 101 follows the general route of the original trail.
The Spanish had already claimed this land over 200 years earlier, but didn't start settling it until they heard of plans by other powers to settle the area. The missions were a way of laying claim to the area. Life for the California Native Americans was forever changed. In addition to Christianity, the missions brought many other things to California such as livestock, fruits, flowers, grains and industry.