Explore a Cave
If you like the digging around in the dark, the smell of bat guano and hauntingly beautiful rocks….well then cave exploration or spelunking is just your cup of tea. You don't actually have to get dirty (unless want to) and I have only on occasion smelled guano. Most cave tours are on gently sloping paths in through large and wonderous caverns. Space might get a bit cramped as you move from room to room throughout the cave. But if you have even a small interest in rocks and how they are formed….then you need to check out a cave. And California has some wonderful caves. Browse the links below to find a cave near you or your destination.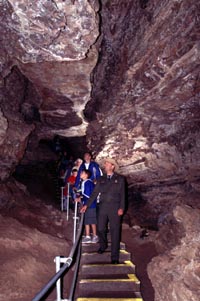 Here are a couple of tips as you start your sub-terannean explorations!
Wear sturdy shoes – you will actually be walking over, around and under rocks
Layer your clothing. Even though it may be warm above ground, caves are cooler and damp. Temperatures average in the 60s in most caves.
Though most cave tours provide ample light, I always stick a small flashlight in my pocket. It's fun to pere into unlit crevises
Do not touch the formations. Oils on your hands will prevent minerals from adhering to the rocks in the future and alter their development.
California Caverns to Explore